June on the Menomonee River at Pembine , Wisconsin by Tim M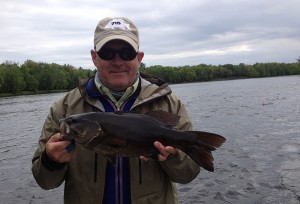 Paul and I took our second trip with Tight Lines Fly Fishing to fish for Smallmouth Bass on the Menominee River in northern Wisconsin.  Great fish, great guide, great trip.  The number of fish caught can only be measured as "enough."
Catching big, fat river Smallies up to 20+ inches on a beautiful river, with a great guide and a reasonably competent fish partner makes for a fulfilling experience.  We caught fish low/slow and looking up.  Watching a Smallie take a popper or deer hair diver—as they say, "priceless."  And, if you miss a take because you were distracted by some aspect of this beautiful river, abundant misquotes or an Eagle flying overhead, not to worry, your fly will soon be eaten again and again and again.  We fished with Nate Sipple again this year and it is a reasonable guess that we will again next year. Check out Nate's blog http://www.meanderingtrickle.blogspot.com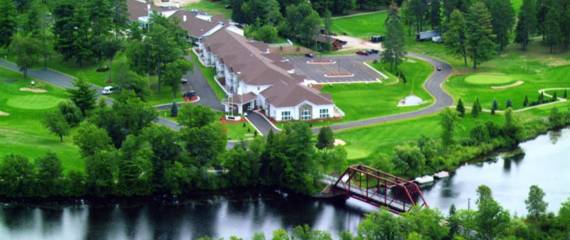 We stayed at the Four Seasons Island Resort. Originally opened in 1905 by the Wisconsin and Michigan Railroad. Perhaps the first thrill is accessing the Four Seasons via the original one lane, one hundred year old, steel constructed bridge.  One should be thankful they don't weight a truck pulling a drift boat… We ended each day in the boundary Waters Sports Bar with good food and appropriate adult beverages. The only drawback was that the Pacers game was on the TV.  Perhaps they should have been fishing not trying to play basketball.

If you plan to take and fish your own flies, take some extras. The river also has a number of greedy Pike and Muskies that seem to be more than willing to bite you off.  When the possibility of a Musky presented itself, Nate rigged a rod with a 90# hard mono tippet and a fly bigger than some of the fish we catch around here.  Paul had two heart stopping takes and managed to keep on fish on long enough to pee his pants.  We gotta practice a more manly hook set… Tight Lines also hosts a Musky trip to Hayward, Wisconsin.  That is on the bucket list.
Tight Lines Fly Shop is a great outfit to work with, great guides and great equipment. http://www.tightlinesflyshop.com We highly recommend them. They know the water, techniques and flies and work very hard to put you on fish.  You will not be disappointed.
Flies…
Bloomington Minnow… This is the result of keeping the Murdich Minnow and Barto Minnow side by side in the fly box.  The variation that work best in the rather high water on this trip is my weighted version.  This variation is what happens when the Bloomington Minnow is side by side with the Belly Ache in a fly box.  It seems that when the lid is closed at night the flies cross breed. This fly has also caught a number of Wipers in Monroe. I will tie one of the weighted ones at a meeting this fall.
Belly Ache http://www.youtube.com/watch?v=i7bJOA7uvIQ
Murdich Minnow  http://www.tightlinesflyshop.com/?p=178
Bart-O Minnow  http://www.tightlinesflyshop.com/?cat=4
Galloup's Articulated Fat Head/Heifer Groomer http://www.youtube.com/watch?v=1B28UbvNIW8
Deer Hair Diver   http://www.charliesflyboxinc.com/flybox/print.cfm?parentID=38
There are tons of tutorials for diver type flies.  I like this one; it has the clarity of all Charlie's Fly Box step-by-step tutorials.
Nelson Ham's Menominee Mud Bug
I am unable to find a tutorial for this fly.
http://smallmouthflybox.blogspot.com/2012/07/the-menominee-mud-bug.html
Hook:  90 Degree Jig Hook
Thread:  6/0 Uni
Tail:  Rabbit Zonker (Rear Portion Slit For Added Action)
Body:  Dubbing Brush
Legs:  Sili-Legs
Flash:  Fine Krystal Flash
Head:  Non-Toxic Painted Jig Head (Tin Instead of Lead)
Eyes:  Paint