Don't forget the November meeting of the HFF will be this coming Tuesday the 20th. As always, we will meet at the Colorado Steakhouse, dinner at 6:00 and the program will begin at 7:00.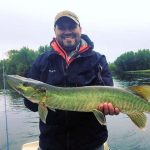 Our speaker this month will be Mike Exl from Moving Waters Outfitters.
Mike will be talking about the Tippecanoe Watershed. Mike has visited us before and this is sure to be another great, informative program.
Some other exciting news…the HFF Christmas party will be December 9th at 11:00 AM. We will meet at the Colorado Steakhouse and enjoy their wonderful buffet. And don't forget the mega Christmas party raffle.
Details on both these upcoming club events. Stay tuned…