The next meeting of the HFF will be Tuesday, November 16th at the American Legion post on 3rdst. Dinner at 6:00 PM Program at 7:00 PM.
This will be a busy and exciting meeting. First we will have an up or down vote on the officers for next year. They will be installed at the December meeting. There will be a selection of hackle for sale at half the original price. These will be for personal tying and not for resale. There are some real deals here for your winter fly tying adventures. In addition to the feathers, there will be some rod building supplies and several finished rods for your perusal. As always, looking for future program suggestions and hearing a few of your fantastic fishing stories.
On the program Barry Clarke will demonstrate the Uni Knot and several of its applications in fly fishing. There will be some paracord for some hands-on practice. Tim will be demonstrating how to tie the "Lake Lemon Lady" nymph. This is a pretty darn good Bluegill fly.
We are working on a location for the Christmas Party…suggestions are welcome. We will let you know as soon as a site is confirmed. Looking forward to seeing you all this coming Tuesday the 16th at American Legion Post # 18 at 1800 W. 3rd. ST> Bloomington. Dinner at 6:00 PM and the program at 7:00 PM.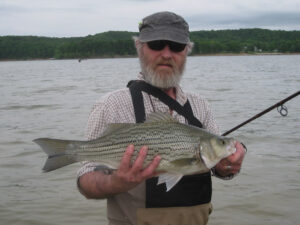 In the meantime go chase some Wipers at Lake Monroe…
Best to you all,
Tim