I hope the recent storms didn't do much damage and we can look at them as only providing more water for fishing. I strongly advise you to not leave the sunroof window open when it is going to rain…from experience. The next meeting of the HFF will be Tuesday, August 15th at the American Legion Post #18 in Bloomington. As usual there will be dinner at 6:00 PM and the program at 7:00 PM.
The program this month will be Charlie Shaw taking us on a digital adventure. He will be using GIS of Brown County to determine what is public land and what is private and where in the county. The site also has some very interesting typo maps to find a pond or stream. He will also be introducing us to ONX Maps, a more hunting oriented site. I am sure this will be inviting a lot of comments and questions.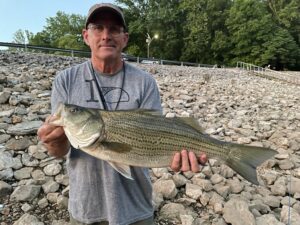 The tying demo this month will be Paul Brown tying a Bass popper. I have seen these on the water, and they look great! This will be a hard body popper that can draw a lot of attention from Mr. Largemouth. He will be using materials that are available at JLWaters. It is always a pleasure to watch Paul tie a fly and BTW this is also true of all the others who generously share their talent and skill.
Looking forward to seeing you all on the 15th. Dinner at 6:00 and the program at 7:00. As always, we are looking forward to suggestions for future programs and tying demo suggestions.
HFF Meetings are open to anyone interested in fly tying and fly fishing. Drop by the on Tuesday, we would be glad to see you!
Stay dry,
Tim